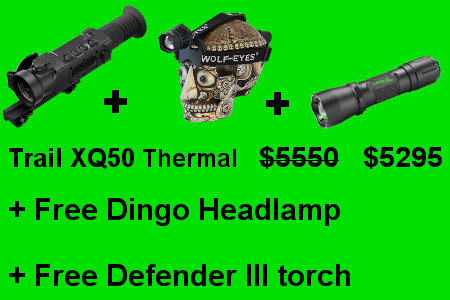 Christmas Bonus on the Pulsar Trail XQ50, reduced from $5,550 to $5,295 and a free Dingo Headlamp and Defender III (both with battery and charger). Your choice of white or red light for the Dingo Headlamp. Merry Christmas from Wolf Eyes! While stocks last, then the next shipment of Pulsar Trails will be early Feb/very late Jan.
14.12.17 Update: Pulsar Trail XQ50 are still available for immediate delivery (though we are not sure for how long) and Pulsar Trail XP50 now early February (possibly late Jan). Supply good on the Trail XP38 and Trail XQ38
The Pulsar Trail Thermal Imaging Scope has great capability on your rifle and adds internal recording and wifi output! Pair the Trail with your phone or notepad for a larger screen. Tremendous for law enforcement, vermin control, herd management, conservation or hunting the Pulsar Trail models cover a wide range of thermal imaging requirements. The image quality of the Pulsar Trail thermal scopes has proven to be amazing, hard to believe how good on the Trail XP, and they have the proven Pulsar Thermal durability and quality. What surprised us as being useful was the wifi and recording. The wifi is great if with a partner, they can view what you are seeing on your Trail on their phone, seeing exactly what you are seeing in real time. No more trying to regain sight picture when changing operators on the thermal scope.
Internal recording on the Trail is great for showing property owners what is actually on their property and also for them to share with adjoining properties. There is nothing like a video to prove what is happening! The Pulsar Trail riflescopes build on all the well known Pulsar Thermal capabilities then add the best of todays technology.
Which Pulsar Trail to choose? If you prefer wide fields of view for say pigs at close quarters the Trail XQ38 and Trail XP38 are a great choice, if you would like to look at foxes or wild dogs at distance then the Trail XQ50 would possibly suit. If you want both wide fields of view and great image quality at distance then the Trail XP50 would be a perfect choice of thermal riflescope for you.
If you are a land owner or professional shooter the new Pulsar Trail thermal scopes are - as one new Trail thermal owner described to us - a game changer. When you are walk or drive into a paddock or the bush you know where every living thing is straight away, it is just so much more time efficient. In the old days you would set up in a paddock and whistle in or observe for a period to see what was there. Even after being there for an hour you never really knew if something was there and got your scent or observed you - or that really there was nothing there. Night vision improved that situation immensely, but still you were faced with the situation if you couldn't see the problem animals in the daytime or under a strong light, say pigs in wheat or foxes in long grass, then your night vision couldn't see them either. Then early thermal scopes came along which allowed you to see shapely blobs of anything with a heat signature, even through long grass - what a change! There was no hiding now. Then with the latest generation like the Pulsar Trail scopes you can get good identification close and heat signatures out to 1800 metres. This allows you to go to a paddock and with a number of stops know quickly what is in it, great if you have a lot of territory to cover or would just like to sleep at some stage after working all day. Real efficiency and a genuine game changer.

Best Image Definition
A heat sink located on the Trail's body, prevents heat build-up from the Thermal Image Sensor and other components while also significantly reducing temperature and noise sensitivity, especially between calibrations. This enhances image sensitivity and quality on your Pulsar Trail and applies equally to the XP Trail and XQ Trail, both 38 and 50 models.

Variable Magnification
The Pulsar Trail models (XP & XQ) include variable magnification and feature both 2x step-up and smooth, even, graduated magnification for a truly optimum, customized field of view for you.

High Refresh Rate
The Pulsar Trail XQ and XP features a high refresh rate of 50hz which provides quality viewing of moving subjects.

Mobile device operation with live internet streaming and remote control
One of the big features of the Pulsar Trail Thermal imaging scope is the ability to link via wifi with Android and IOS based mobile devices using the free app 'Stream Vision'. This enables you to recieve video in real time, to operate the Trail thermal imaging scope with your smartphone or tablet and well as stream video to Youtube.

Video Recording Built In
The Trail has the ability to record thermal images or thertma video on it's built in video recorder. This can be then sent to your PC or laptop via a wired connection or wifi.
Detection distance up to 1800 m
Depending on your individual model, Pulsar Trail thermal imasing scopes can detect big-game-size heat signatures up to 1800 meters away.
Stadiametric rangefinder
Based on the estimated heights of viewed objects, the stadiametric rangefinding reticle makes determining distances with your Pulsar Trail fast, easy, reliable and repeatable.
Quick-change B-Pack power units
Trail includes a progressive autonomous B-Pack power supply consisting of a quickly detachable, rechargeable IPS5, 5.2A-h battery pack designed to deliver over 8 hours of Trail Thermal Scope operation on maximum mode. Higher powered IPS10 battery packs, as well as CR123A and AA battery cases, also are available and provide a perfect out in the bushpower solution.
Fully waterproof
With the Trail Thermal scope rated at IPX7 waterproof protection it ensures your Pulsar Trail performs perfectly in wet weather, even during intense rain, snowfall and submersion in 1 metre of water for up to 30 min. (IEC 60529).
Wide range of operating temperatures
With a frost resistant AMOLED display, the Pulsar Trail thermal imaging scope is designed to deliver perfect performances at an extreme temperature range of -25° ... +50°С.
User friendly interface
The Pulsar Trail is designed to be easy to use. A lot of client feedback has resulted in the most friendly interface to date, complete with an easy to read, icon driven, alpha numeric status bar at the bottom of the display. Internal menu items and options are also displayed on a contrasting gradient substrate so you can keep an eye on settings without losing sight of your objective.
Display off mode
During short periods of inactivity and foruse to provide better concealment, Display Off powers down the display without interrupting any other functions. Using Display Off means you have a much faster restart time when you need it most.
Updatable software
For your initial setup and ongoing updates, the iOS and Android compatible Stream Vision App will ensure that the most recent Pulsar Trail software versions are available to your thermal scope. There has been a recent update in late 2017 and all devices are eligible for this. We also have hardware which isn't yet enabled, the microphone is an example of this and we expect to enable it in the next software release.
Fully functional wireless control (optional)
The wireless remote control, with it's encoder wheel, puts the complete range of the Pulsar Trail's capabilities at your fingertips for comfortable, convenient, remote operation.
Pulsar Premier Partner
It is a big investment when purchasing a thermal scope or night vision scope. You deserve peace of mind. That is why we are a Pulsar Premier Partner, to give you that peace of mind. You have the full resources of our company and the full resources of the Australian importer working together to support you. Full sales support, full service. Both companies familiar with the product and dealing with it daily.
Update - There has been an update to the Pulsar Trail firmware giving it extra capabilities, more details here : Pulsar Trail Firmware Update V2.0.0
Pulsar Trail XQ50 Reticle Catalogue
Pulsar Trail XP50 Reticle Catalogue
TRAIL XQ38
THERMAL SIGHT
384X288 SENSOR
50Hz - 17µm
8GB RECORDING – Wi-Fi
DETECTION RANGE: 1350 M
MAGNIFICATION: 2.1x – 8.4x
TRAIL XQ50
THERMAL SIGHT
384X288 SENSOR
50Hz - 17µm
8GB RECORDING – Wi-Fi
DETECTION RANGE: 1800 M
MAGNIFICATION: 2.7x – 10.8x
TRAIL XP38
THERMAL SIGHT
640X480 SENSOR
50Hz - 17µm
8GB RECORDING – Wi-Fi
DETECTION RANGE: 1800 M
MAGNIFICATION: 1.2x – 9.6x
TRAIL XP50
THERMAL SIGHT
640X480 SENSOR
50Hz - 17µm
8GB RECORDING – Wi-Fi
DETECTION RANGE: 1800 M
MAGNIFICATION: 1.6x – 12.8x
We know how hard it is when buying a new scope sight unseen - and it is twice as hard when it is new technology like a Pulsar Trail thermal riflescope. Here is our complete video manual so you can see what you are getting yourself in for, of course bearing in mind you will usually just use one or two of the functions after your initial setup.
(103-pulsar-trail)
| | |
| --- | --- |
| SKU | 103-pulsar-trail |
| Brand | Yukon Pulsar Night Vision |
| Shipping Weight | 0.0001kg |
| Shipping Width | 0.001m |
| Shipping Height | 0.001m |
| Shipping Length | 0.001m |
Almost perfection

By:

Scott Thompson

on 12 December 2017

The XP50 is my second thermal rifle scope and by far and away the best. Everything is good about this, the quality is easily the best thermal I have ever seen and I looked at everything I could when I was choosing this one. The battery lasts a all night, the phone app works well and the recording works. I had a different brand before and would easily give this scope 10 out of 10, only thing which would make it better would be being cheaper. You almost feel guilty how good it is when you are using it. Almost.




(5)
Game Changer

By:

Mike

on 7 December 2017

Recently got a Trail XQ50 and it is a game changer. Part of our property is half an hours drive away, so we spend less time eradicating pests there. Also when we get there we never really new what was around, now with the Trail we know within minutes after arriving. It has easily made us tenfold more effective and cant recommend the scope highly enough.




(5)
Yes it's true

Everything you have read or seen in the videos is right - I am sure you have read them all like I did. Absolutely fantastic scope and compares very, very well with some my friends own. Could not be happier. Thank you Glenn for getting me one of the first in Australia.




(5)
---
Others Also Bought
---
More From This Category